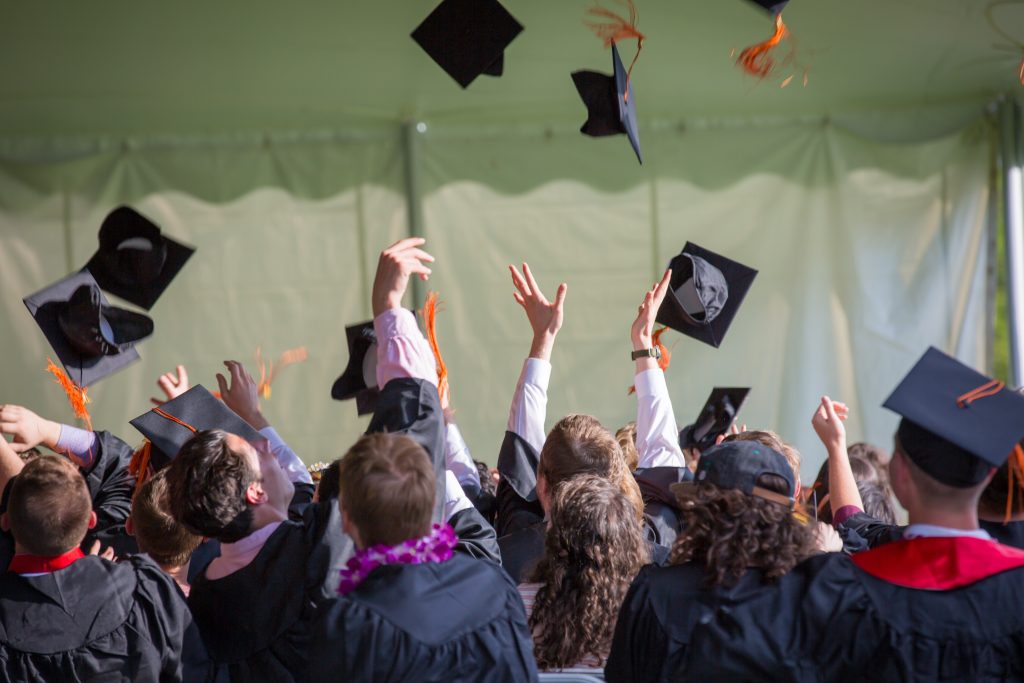 Before the pandemic struck in 2020, the number of U.S. students studying abroad had been pretty much rising steadily each year.
Whereas more than 154,000 students from the U.S. participated in study abroad programs during the 2000-2001 academic year, that number more than doubled – to over 347,000 – during the 2018-2019 academic year. That's according to the Institute of International Education.
The global spread of COVID-19, however, brought the steady growth in study abroad to a screeching halt in early 2020. Students were evacuated from host countries and study abroad programs got canceled. Lockdowns and travel restrictions led the number of U.S. students studying abroad during the 2020-2021 academic year to plummet by 91% to just 14,549.
While official study abroad numbers for 2021-2022 are not yet published, there is reason to expect a rebound. A national survey conducted in April 2022 revealed that roughly 90% of colleges and universities were planning to offer some form of study abroad by the summer of that year.
However, as studying abroad makes its comeback, much has changed with how study abroad programs operate. Below are five questions to ask when planning to study abroad in a post-pandemic world.
continue their studies in case of a disruption, whether it's caused by rare events, such as a pandemic or international conflict, but also more routine matters, such as a national strike.
2. Do I need extra insurance?
Students should not assume that their regular U.S. health insurance will provide the level of coverage needed while abroad. In fact, the cost of a medical evacuation can run as high as US$250,000.
Most study abroad programs offer, and many require, participants to enroll in an affordable international travel insurance policy. In addition to paying for medical expenses, benefits may include coverage for costs associated with trip cancellation, required periods of quarantine, and emergency evacuations. Additionally, the policy may provide non-insurance travel assistance services, such as helping to replace lost or stolen documents. Students should ask about the availability of these policies and know what is covered.
3. What are the host country restrictions?
At the height of the pandemic, countries' COVID-19 policies ranged from status quo to complete lockdown. In some instances, travelers could be fined or jailed for failing to follow local restrictions. The U.S. Department of State created a web page with information on the COVID-19 restrictions of each country. While most countries have dialed back restrictions, it is still very important to review this information because these policies can affect a student's ability to travel and participate in certain activities once they are abroad.
4. What are the latest travel risks?
While the Centers for Disease Control and Prevention provides data on traveling in the era of COVID-19, including risk ratings and vaccination recommendations by country, it is also important to understand how the pandemic may have influenced other risks, such as by contributing to political tensions and applying pressure to already fragile health care systems.
Students should review the country-specific information published by the State Department, as well as register for real-time updates from the local U.S. embassy. Additionally, students should inquire about other resources, such as in-country staff available to assist with emergencies, who may be available to support program participants once they are abroad.
5. What scholarships can help cover the cost?
Because study abroad programs were mostly paused for the past few years, the scholarship funds that colleges have dedicated to these programs may have been left largely untouched. Fund balances could be higher now and there may be a possibility to obtain a larger award than in years past. Students should inquire with their college's study abroad and financial aid offices about scholarship opportunities. Such funding can vary greatly by program duration, location and other factors, so students should be flexible with their plans to receive the maximum award.
Whether or not their college offers generous scholarships for study abroad, students should also consider applying for external funding. The Fund for Education Abroad, an organization committed to increasing the number of underrepresented students studying abroad, maintains a listing of more than 20 dedicated scholarships. Additionally, the State Department compiles information on applying for study abroad programs and scholarships supported by the U.S. government. Some of these programs and scholarships are designed to lead to a federal job. The department also keeps a list of various scholarships from foreign governments.

Source:The Conversation