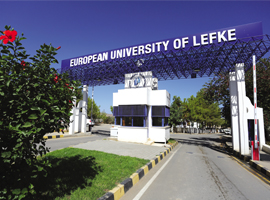 The European University of Lefke (EUL) is a non-profit state university in North Cyprus which was founded in 1989 by the Cyprus Science Foundation, and opened its campus in 1990. The University's campus is located on a hill in one of the island's richest natural corners, overlooking the local landscape and with a full view of the blue waters of the Mediterranean.  With its quiet and tranquil setting, it offers students a safe and ideal environment to pursue their academic studies. As an international education and research institution, EUL is a leading brand of education in North Cyprus with more than 11,000 students from more than 65 different countries covering five continents.Some of the reasons to study here include:
Live amidst a rich cultural heritage
Experience a multi-cultural and multi-national
environment
Learn from renowned academic staff
Study on a modern campus with academic and
recreational facilities
Take part in national and international
symposia and exchanges
Take in the creative and ethical values
Make career enhancing contacts and
friendships
Key Opportunities
EUL is moving forward to become the most
innovative and creative university in North Cyprus
Study at the fastest growing university in
North Cyprus
Learn from academics who are leaders in their
field
Enjoy a wide range of scholarship
opportunities
Live and study on a 24/7 safe and secure
campus
Opportunity to study for a degree with the
University of Bradford under 3+1 or 2+2 arrangement
A multicultural environment with students
from 80 different countries
EUL degree programmes have international
accreditation
Are you interested in studying at the European University Of Lefke??Get in touch with us to kickstart your application.